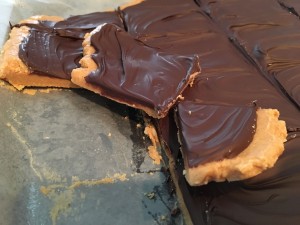 If you happen to go to Sexton High School with me, visit this site you might remember the delicious peanut butter chocolate dessert bars you could find in the cafeteria. They were AMAZING.
The mother of my best friend in high school worked for the school cafeteria and a few years ago she shared the recipe with me. Of course she gave me the original recipe which called for 3 gallons of peanut butter, drug 6 lbs of butter and 21 pounds of powdered sugar. LMAO. But..she ended up also working out the recipe for a normal sized batch for me. YUM..
Now before I give you the recipe..I just wanted to tell you about my friend's mom. Her name is Rita and in 2014 she was diagnosed with Pancreatic Cancer. I know for a fact that Rita has done everything she can to kick cancer's ass. I haven't seen her lately and I've been too afraid to ask Andrea how she's been doing, but it seems that maybe the end is near. :'(
The family set up a gofundme a few months ago to help with the costs of Rita's medical treatments, and now they will need help with the funeral costs when the time comes. If you can spare a few dollars to help this wonderful family out through this hard time, that would be great. Please share this post with everyone you can and GO MAKE THESE DELICIOUS DESSERT BARS in honor of Rita. Thank you so much!


[yumprint-recipe id='3′]