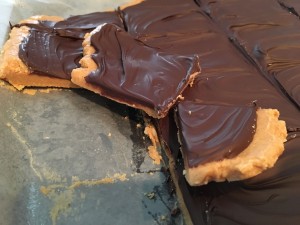 If you happen to go to Sexton High School with me, visit this site you might remember the delicious peanut butter chocolate dessert bars you could find in the cafeteria. They were AMAZING.
The mother of my best friend in high school worked for the school cafeteria and a few years ago she shared the recipe with me. Of course she gave me the original recipe which called for 3 gallons of peanut butter, drug 6 lbs of butter and 21 pounds of powdered sugar. LMAO. But..she ended up also working out the recipe for a normal sized batch for me. YUM..
Now before I give you the recipe..I just wanted to tell you about my friend's mom. Her name is Rita and in 2014 she was diagnosed with Pancreatic Cancer. I know for a fact that Rita has done everything she can to kick cancer's ass. I haven't seen her lately and I've been too afraid to ask Andrea how she's been doing, but it seems that maybe the end is near. :'(
The family set up a gofundme a few months ago to help with the costs of Rita's medical treatments, and now they will need help with the funeral costs when the time comes. If you can spare a few dollars to help this wonderful family out through this hard time, that would be great. Please share this post with everyone you can and GO MAKE THESE DELICIOUS DESSERT BARS in honor of Rita. Thank you so much!
Peanut Butter Chocolate Dessert Bars
2016-01-26 13:50:02
No bake Peanut Butter and Chocolate dessert bars.
Ingredients
1/2 cup butter (or margarine, whatever you have)
1/2 cup packed brown sugar (light or dark, again whatever you have)
1 teaspoon vanilla extract
2 cups peanut butter
2- 1/2 cups confectioners sugar
2 cups semisweet chocolate chips
Instructions
Place all ingredients (except the chocolate chips) in a large microwave safe bowl.
Microwave until butter and peanut butter are melted, one to two minutes (time will vary by microwave).
Remove from microwave and use a large spoon to stir all of the ingredients together until they form a ball of dough that leaves the side of the bowl.
Pat into a 9x13 pan. (I used a cookie sheet with wax paper laid down on it and sprayed with a bit of Pam. I also put another sheet of wax paper over it and rolled it out with a rolling pin to spread it evenly.)
Pour chocolate chips into another microwave safe bowl and microwave at 30 second intervals, stirring after each, until completely melted. (It took me about 3 intervals to completely melt the chocolate chips.)
Spoon over top of peanut butter mixture and spread evenly.
Allow to cool completely at room temperature until chocolate hardens again or place in the refrigerator for faster hardening.
Cut into squares and serve to some awfully happy people!
Adapted from from the Sexton High School Recipe Book
Adapted from from the Sexton High School Recipe Book
Chemical S C R E A M http://chemicalscream.net/